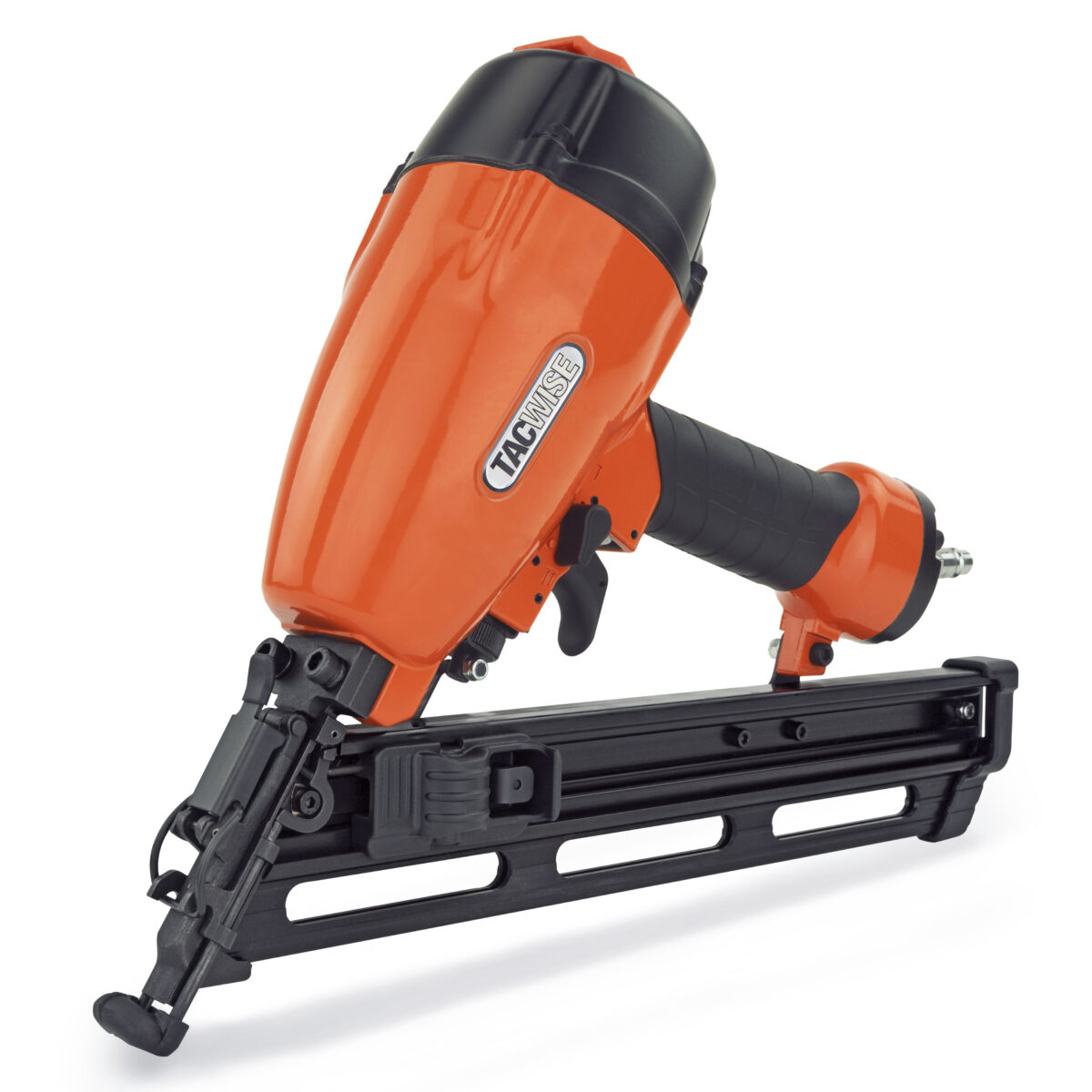 15G Air Finish Nail Gun
The GDA64V2 angled nail gun is a versatile addition to the Tacwise finish nail gun range. This professional angled nail gun brings power and consistent performance to a wide range nailing tasks in restricted areas.
The air powered tool fires type 15G 'D' Head angled finish nails with a length of 32-64mm and has a quick-release, bottom-loading magazine with a maximum capacity of 100 finish nails. We strongly recommend using Tacwise nails for a smooth, uninterrupted performance.
This finish nailer operates in a sequential (single shot) or contact trip (bump) firing mode and is equipped with a unique depth control adjustor allowing for precise countersinking of nails into different materials. A well-balanced tool weighing 2kg, featuring a high durability driver blade and 360° air deflecting exhaust to offer a 1.5m/s² vibration emission level for peak performance.
A high-quality, versatile nail gun loaded with expert features including an anti-jam, quick-release nose gate, rubber non-marking nose and a versatile, viewable, angled magazine to enhance your nailing productivity. The tool is equipped with a safety contact tip, soft rubber grip and more space between the handle and the magazine for extra comfort and security.
The GDA64V2 is a pneumatic finish nailer for a range of second fix applications including trim work, finish carpentry, baseboards, crown moulding, skirting boards, sheds, panelling, cabinetry and a range of other woodworking applications where elbow room or access is limited
Tool operation is between 70-120 PSI, allowing a relatively small air compressor to be used (not included in this purchase).
This model comes with: Blow mould carry case, Air tool oil, Operators manual.
PROFESSIONAL FINISH NAIL GUN – Well-balanced angled finish nailer supplied in a durable carry case, designed to bring speed and reliability to a wide range of hard-to-reach woodworking and second fix finish nailing tasks
COMPATIBILITY – Efficient bottom-loading magazine enables firing of 100 x type 15G 'D' head / 32 – 64 mm angled finish nails without reloading; we strongly recommend using Tacwise nails for a smooth, uninterrupted performance
MAXIMISED PERFORMANCE – Offers a sequential (single shot) or contact trip (bump) firing mode and comes equipped with a unique depth control adjustor for precise nail countersinking, while the high durability driver blade and 360° air deflecting exhaust offer a 1.5m/s² vibration emission level for peak performance
2KG ERGONOMIC DESIGN – Robust lightweight design incorporating an anti-jam, quick-release nose gate, safety non-marking tip, soft rubber grip, and a versatile viewable angled magazine that makes the tool extremely compact and capable of firing into restricted spaces
VARIETY OF APPLICATIONS – Professional pneumatic finish nailer for a range of second fix applications including trim work, finish carpentry, baseboards, crown moulding, skirting boards, sheds, panelling, cabinetry and a range of other woodworking applications where access is limit
AIR COMPRESSOR REQUIRED – Operates between 70 -120 PSI for fast and accurate nailing (compressor not included)
| | |
| --- | --- |
| Magazine Capacity | 120 |
| Fasteners length (mm) | 11mm |
| PSI | 100 |
| Trigger | SS, CT |
Bottom loading magazine
360° adjustable exhaust port
Depth control
Double power cylinder system
Double safety trigger
Easy top loading system
Extra long nose
High capacity magazine/nail drum
High durability driver blade system
Neat rear exhaust system
Non marking nose
Open (viewable) magazine system
Protective bumper
Quick release nose gate
Quick release reloading system