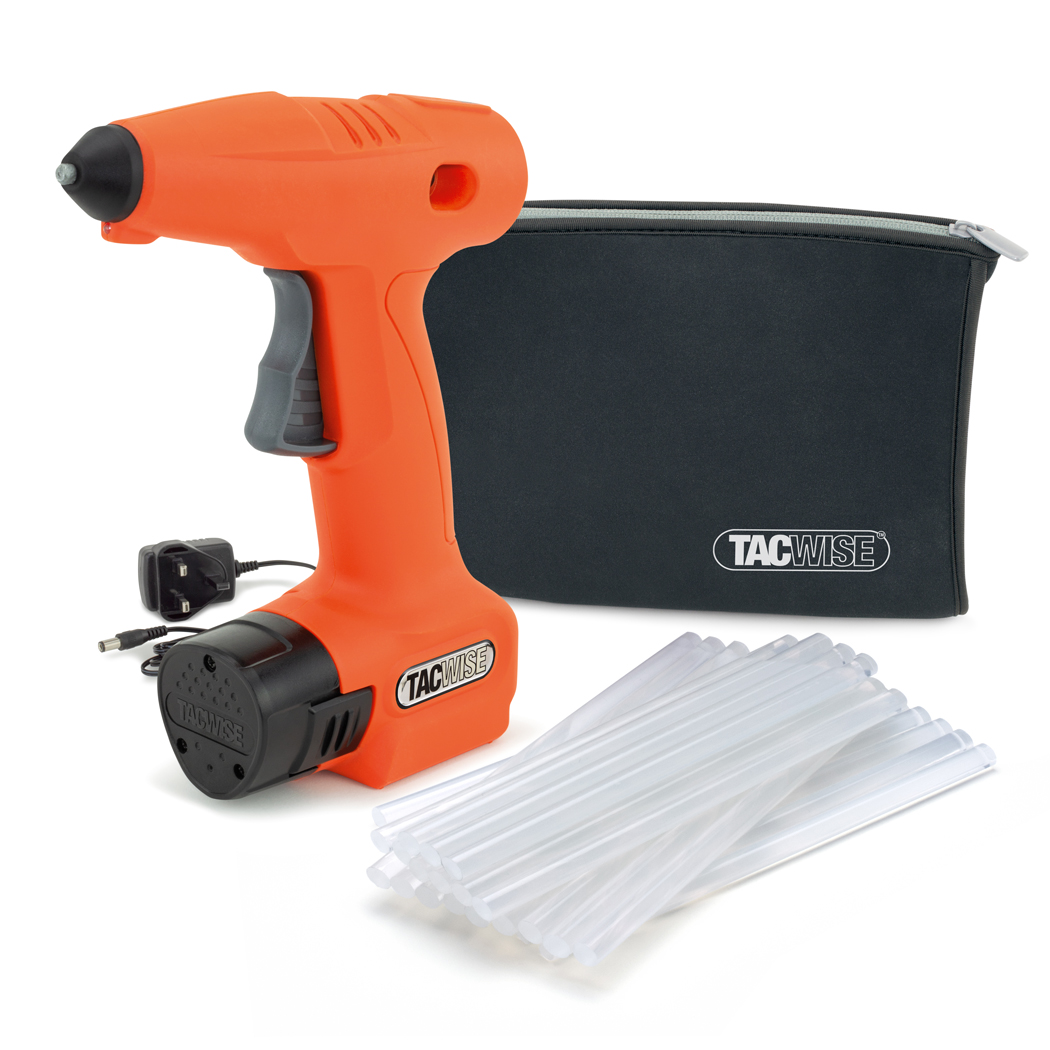 H12-7 Cordless 12V Hot Glue Gun with 30 Glue Sticks and Neoprene Storage Bag
The H12-7 hot melt glue gun is a versatile cordless 12V glueing tool, ideal for jobs in any location and suitable for a wide range of applications and materials.
Made from impact and high heat resistant material, the free-standing gun is quick to heat up and features a handy auto turn-off after 5 minutes of non-use. With an automatic LED light for precision, and a comfortable, contoured trigger, this glue gun is the ideal choice for DIY, crafting and semi-professional use.
The rechargeable 12V lithium-ion battery is interchangeable with other Tacwise 12V tools and the charging cable plugs directly into the battery, meaning no bulky charging dock is required.
The 1560 model includes a neoprene storage bag, a UK mains charger with an additional Euro plug adapter and 30 glue sticks. The 1604 model is body only.
PROFESSIONAL GLUE GUN – Cordless 12V hot melt glue gun supplied with a neoprone storage bag and 30 glue sticks, designed to bring speed and precision gluing to textiles and crafting materials
COMPATIBILITY – Efficient heat up technology providing a 60 second heat up time with the Tacwise Type H hot melt glue sticks up to 7mm
MAXIMISED PERFORMANCE – Powered by an interchangeable, rechargeable, quick release 12V lithium-ion battery offering a 2 glue sticks per minute speed, 3-5 hour charge time, long battery life and 5 minute auto turn off to maximise cordless performance
0.4KG ERGONOMIC DESIGN -Super lightweight impact and high heat resistant material featuring an LED light for increased precision as well as a contoured trigger and free standing design to provide comfort and convenience for long periods of use
VARIETY OF APPLICATIONS – Useful for a wide range of professional gluing tasks including hobbycraft and decorative applications on fabrics, textiles, card, wood, leather, cork, cardboard and plastic