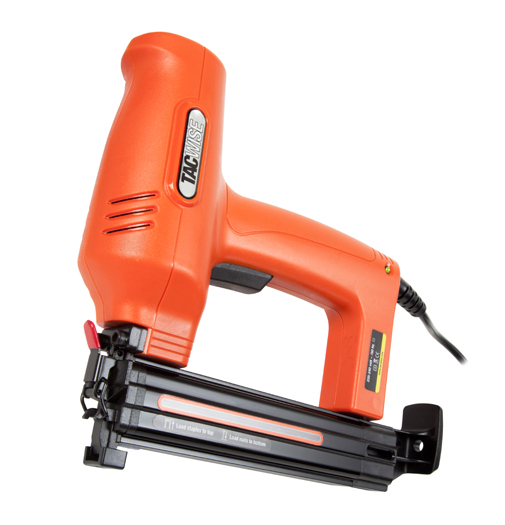 Duo 35 Electric Staple / Brad Nail Gun
The Tacwise Duo 35 staple / nail gun is a versatile 2-in-1 nailer in our corded electrics range. This compact professional tool brings speed and precision to repetitive heavy duty wood fixing tasks.
A 2.1kg electric stapler / nailer constructed with an impact resistant body incorporating an enhanced motor and driver blade with an easy to use, quick-release loading magazine and anti-jam nose gate to maximise your nailing efficiency. A heavy-duty electric with a single shot firing mode capable of firing 100 x type 180(18G) nails which are 15 to 35mm in length or 100 x type 91 staples which are 15-30mm in length. We strongly recommend using Tacwise nails for uninterrupted performance.
The Duo 35 is built to provide the best performance in corded electrics with a 4.3m/s² vibration emission level. Features a rapid 30 staples/nails per minute firing speed that allows you to maximise your nailing performance whilst the soft rubber, non-marking nose provides professional results.
A high quality, versatile stapler / nailer loaded with features such as the quick-release anti-jam nose gate, safety contact tip, wide ergonomic grip, extra-long power cord, safety on/off switch, personalisation window and magazine viewing window to enhance your nailing productivity by always knowing when you're running low on nails.
The Duo 35 is useful for all professional tradesmen tackling a number of first and second fix tasks including flooring, boarding out, panelling, cladding, skirting boards, furniture building, woodwork assembly and many more heavy duty wood applications.
This model comes with: Blow mould carry case.
PROFESSIONAL 2-IN-1 STAPLE/NAIL GUN – Heavy duty electric staple & nail gun supplied in a durable carry case, designed to bring speed and precision to professional soft, medium and hardwood fixing tasks
COMPATIBILITY – Efficient single shot trigger and quick release, all-metal reloading magazine enables firing of 100 x type 91 / 15 – 30 mm staples or 100 x type 180 (18G) / 15 – 35 mm brad nails without reloading; we strongly recommend using Tacwise staples/nails for a smooth, uninterrupted performance
MAXIMISED PERFORMANCE – Produces a 4.3m/s² vibration emission level and comes equipped with enhanced motor/driver blade components offering a 30 staples/nails per minute firing speed as well as an anti-jam quick release nose gate to maximise peak performance while nailing
2.1KG ERGONOMIC DESIGN – Robust, lightweight design incorporating an impact resistant industrial body, safety contact tip, convenient nail viewing window, personalisation window, soft rubber grip, non-marking nose and safety on/off switch for comfort and security
VARIETY OF APPLICATIONS – Useful for all DIY'ers and professional tradesmen tackling a number of second fix and flooring tasks including boarding out, panelling, skirting, furniture, woodworking assembly and many more heavy-duty wood applications