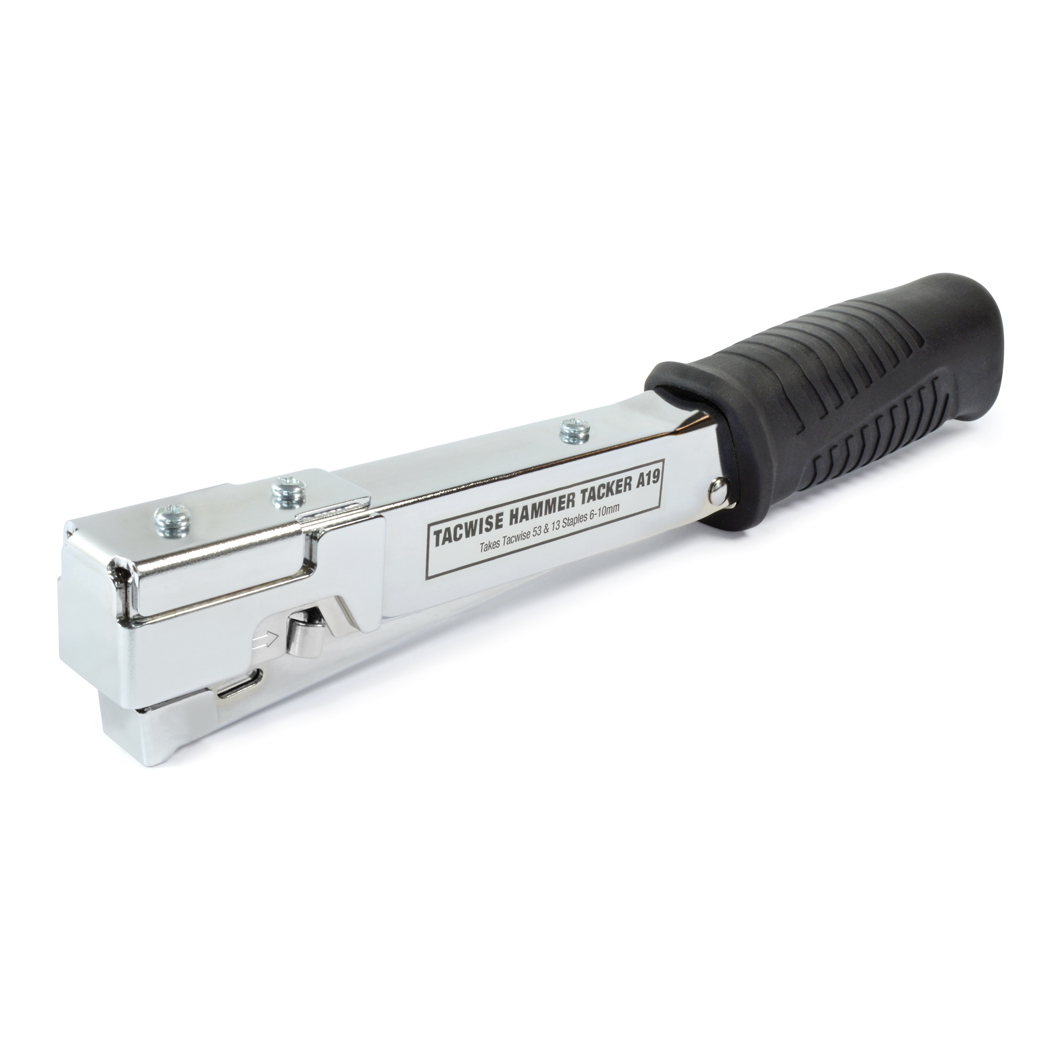 A19 Hammer Tacker
The A19 Hammer Tacker is a compact, entry-level addition to our Tacwise hammer tacker range. This semi-professional tacker brings consistent performance and ergonomic handling to a wide range of handheld stapling tasks.
The hand operated tool fires both type 13 & 53 staples with a length of 6-10mm. The quick-release, top-loading magazine has a maximum capacity of 100 staples. We strongly recommend using Tacwise staples for a smooth, uninterrupted performance.
Compact, all-metal slap hammer tacker designed to withstand constant, all-day use. A super lightweight tacker weighing only 0.4kg and equipped with a wide ergonomic grip and tough metal construction for enhanced comfort and durability.
The A19 is a semi-professional hammer tacker suitable for a range of DIY and semi-pro fixing applications including plastic sheeting, display/shop fitting, fabrics & blinds, hobby crafts, insulation, posters, and many more.
This model comes with: Operator's manual.
SEMI-PROFESSIONAL HAMMER TACKER – Compact all-metal hammer tacker designed to offer the best in speed and performance for many high-volume fixing tasks
COMPATIBILITY – The quick-loading magazine enables firing of 120 x type 53 / 6 – 10mm or 120 x type 13 / 6 – 10 mm staples without reloading; we strongly recommend using Tacwise staples for a smooth, uninterrupted performance
MAXIMISED PERFROMANCE – A durable, all-metal slap hammer designed to withstand constant, all-day use, providing quality results for semi-professional and DIY tasks
0.4KG ERGONOMIC DESIGN – Robust, super lightweight design featuring a tough metal construction and a wide ergonomic grip for enhanced comfort and precision
VARIETY OF APPLICATIONS – Suitable for a range of semi-professional fixing jobs on plastic sheeting, display/shop fitting, fabrics & blinds, hobby crafts, insulation, posters, and many more