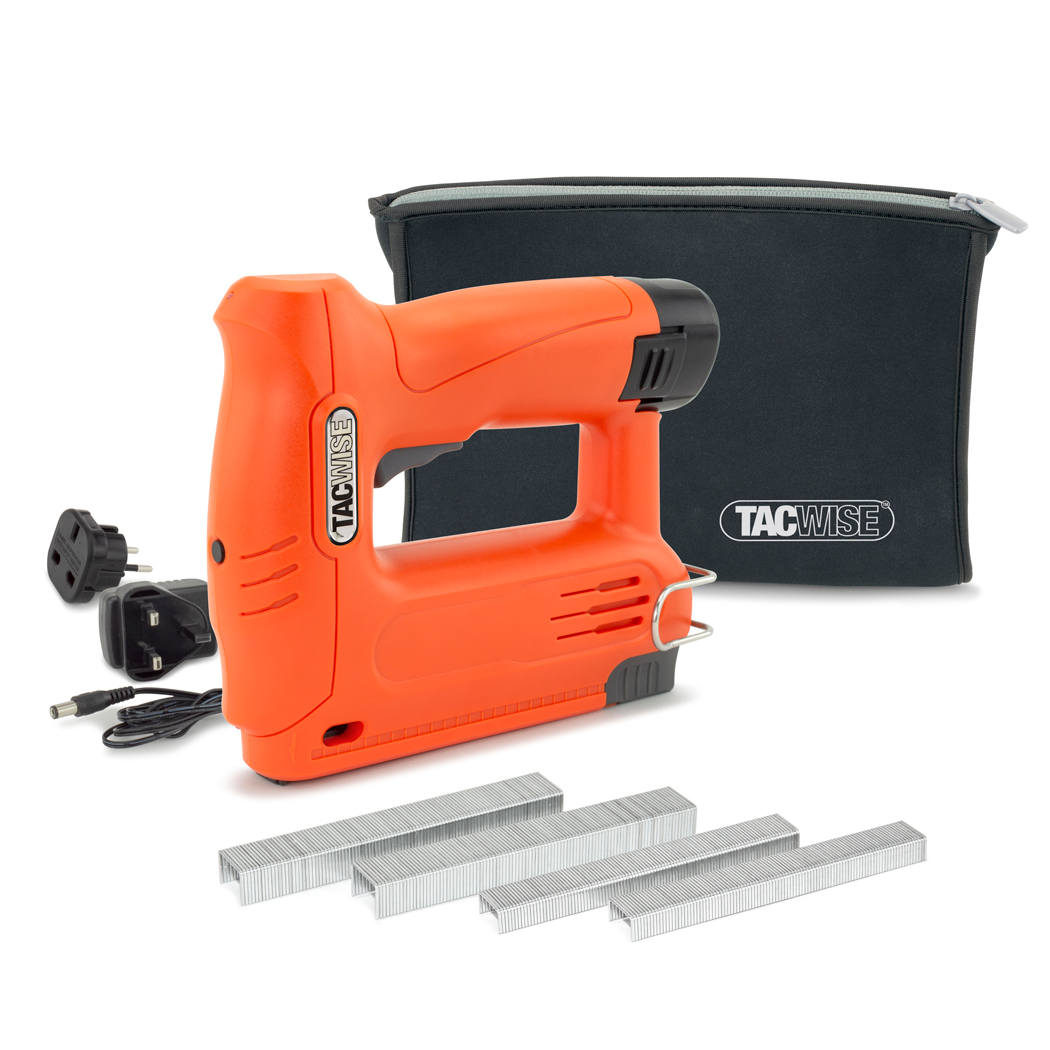 53-13EL Cordless 12V Staple/Nail Gun with Storage Bag & 400 Staples
The Tacwise 53-13EL is a powerful and versatile 2-in-1 cordless staple and nail gun. This semi-professional hand tacker provides power and reliability to a wide range of household fixing tasks.
This unique cordless tool offers a single shot or contact trip firing mode and uses type 13 and 53 staples with a length of 6-12mm as well as type 180 (18G) nails in a length of 10mm. We strongly recommend using Tacwise staples and nails for a smooth, uninterrupted performance. The stapler/nailer is fitted with a quick-release, bottom-loading magazine system with a maximum capacity of 140 staples or 85 nails.
The 53-13EL is powered by interchangeable and rechargeable 12V lithium-ion technology. The battery features a quick-release battery latch and offers a 30 staples or nails per minute firing speed, 3,000 shots per charge and a 3-5 hour charging time for maximised performance while stapling or nailing.
A super lightweight 0.9kg tool loaded with handy features including a safety contact tip, LED work light, staple/nail viewing window, belt hook and safety on/off switch for enhanced ease of use and safety.
The 53-13EL is suitable for semi-professionals and DIYers working on a range of household fixing tasks such as furniture upholstery, roofing, carpeting, picture framing, sheeting, insulation, decorative work and many more.
This model comes with: Neoprene storage bag, UK mains charger with an additional Euro plug adapter, 200pcs x 53/8mm staples and 200pcs x 13/6mm staples.
SEMI-PROFESSIONAL 2-IN-1 STAPLE/NAIL GUN – Cordless, 12V staple and brad nail gun supplied in a box with a 12V battery, neoprene storage bag, 200 x type 53/8mm staples and 200 x type 13/6mm staples, designed to bring powerful and durable results to semi-professional fixing tasks
COMPATIBILITY – Offers contact trip (bump firing) or single shot firing modes with a bottom loading magazine that enables firing of 140 x type 53 & 13 / 6 – 12 mm staples or 85 x 180 (18G) / 10 mm brad nails without reloading; we strongly recommend using Tacwise staples and nails for a smooth, uninterrupted performance
MAXIMISED PERFORMANCE – Powered by an interchangeable, rechargeable, quick-release 12V lithium-ion battery offering a 30 staple or nail per minute firing speed, 3,000 shots per charge and a 3-5 hour charging time for maximised performance while stapling or nailing
0.9KG ERGONOMIC DESIGN – Expert lightweight design featuring a safety contact tip, LED light, staple/nail viewing window, battery status indicator, belt hook and safety on/off switch for enahnced ease of use and safety
VARIETY OF APPLICATIONS – Suitable for semi-professionals and DIYers working on household tasks such as furniture upholstery, roofing, carpeting, picture framing, sheeting, insulation, decorative work and many more